Remembering Sandie
By Steve Biddle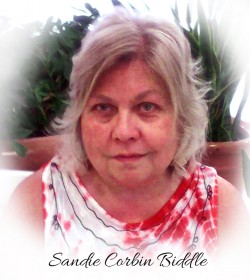 The 2017 People's Choice Festival is taking place without someone who has had a constant and welcome presence at every Festival since the beginning.  Sandie Corbin Biddle wrote a great deal of the advertising material for the Festival, participated in the planning, served on the committee, and wrote the special sections about the Festival for the Centre Daily Times.
Her sweet personality, her quick wit, and her sharp-as-a-tack creativity gave the Festival not only advertising and promotional support, but a wonderful embodiment of the spirit of the People's Choice Festival of Pennsylvania Arts & Crafts.  But this year, she's not here.  In November, Sandie finally lost her long fight with cancer, and passed away at the age of 62.
Sandie was a real Pennsylvania girl.  She was born and raised in Huntingdon County, graduating in 1972 from Juniata Valley High School. She attended Penn State, and within a couple of years, became the copywriter and production director at WRSC/WQWK in State College.  And that's when her talents really bloomed. She knew how to write a great radio commercial – and produce it – almost instinctively.
Within a few years, she had moved to Orlando, where she became the Creative Director at WKIS Radio. There, she won the first of many advertising awards. She was a finalist in the national CLIO Awards, the most prestigious of them all.  It was for a radio commercial she had created for a local transmission shop, in the "Use of Sound" category.  She subsequently took home many ADDY Awards for her work in print and broadcasting.
Sandie was probably best known in Orlando, as the voice of "Mrs. Roger Holler."  There was (and still is) a car dealer there, Roger Holler Chevrolet, and Sandie came up with a concept where she played the part of Mr. Holler's long-suffering wife: "You'll never guess what Roger is up to now," she'd say.  "But there are pre-owned cars all over our front yard…"  And that was when I first became aware of her.
I was working at WDIZ radio in Orlando at the time, and I kept hearing these radio spots starring "Mrs. Roger Holler."  Being a copywriter myself, I had a lot of admiration for the creativity involved.  One Sunday, as I was reading the Orlando Sentinel's Q & A column, I saw a question sent in by a reader.  "Is that woman on those radio commercials really Mrs. Holler?" she asked.  The answer was, "No, she's Sandie Corbin, the production director at WKIS. She's 26, and a Pennsylvanian by birth…."   There was a little head shot of her, and I thought, "Hey, she's pretty cute!  I'd sort of like to meet her."
Within a few months, that opportunity took place at the grand opening of a local commercial production studio.  By that time, Sandie had become the Creative Director at Chapman & Castello Advertising, one of Central Florida's largest ad agencies.  To make a long story at least somewhat shorter, we hit it off, and were married a year later.
Beginning in 1981, we would visit Sandie's parents about once a year at their home in rural Huntingdon County, near Petersburg.  I fell in love with the area, Sandie sort of re-discovered her home, and we moved to Pennsylvania in 1988. Almost immediately, Sandie was hired as the Promotions Manager at the Centre Daily Times – where she soon won several promotions awards.
We were divorced in 2006, after more than 26 years, but remained close friends.  Sandie stayed at the house near Petersburg, where she had lived most of her life.
It was in late 2014 when she was diagnosed with lung cancer.  In typical Sandie style, she fought it in her own way.  When chemotherapy made her ill, she decided that she would find other methods – essential oils, diet, and meditation, for example.  If they didn't work, she said, at least she would live the way she wanted to live, right up until the end.
The end came on the evening of November 16, 2016, when she passed peacefully at home.  All of us who knew her miss her terribly, but there is at least some comfort in knowing that Sandie is now at peace.  And the People's Choice Festival extends its gratitude – and remembrance – to Sandie Corbin Biddle.
Sandie Corbin Biddle  
February 26, 1954 – November 16, 2016