It's been over two decades since a handful of volunteers got together to create a homegrown arts festival. In 1993, there were 50 vendors, a couple food stands, and a few live bands. Now it's one of the largest and most family-friendly arts festivals in central Pennsylvania – attracting more than 110,000 visitors over a four-day period. This year the People's Choice Festival of Pennsylvania Arts & Crafts features nearly 200 artists, about two dozen food vendors, and 40 acts on the two stages.
It began with George Marion, a local artist, who wanted to start a brand new arts festival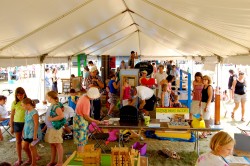 , the People's Choice Festival of Pennsylvania Arts & Crafts – to be held on a grassy lawn in Boalsburg. It seemed that there were far more local artists than could possibly be accommodated at the Central Pennsylvania Festival of the Arts. George and his compatriots wanted a venue to share their creations at the same time as the State College festival. George, and his wife Nancy, energetic local artisans, were up to the challenge of organizing the first event. George placed an ad in the paper and there was a write-up as well. Sandie Biddle, now publicist and writer for the festival, remembers that day well. "I worked at the Centre Daily Times then and I remember George coming in with his little dog under his arm, all fired up about a new arts festival 'for the people.' One man's enthusiasm inspired a central PA tradition."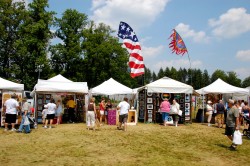 John Madison, who was new to the area in 1993, had been helping his wife, Georgia, sewing her handmade welder's hats. "We were just getting into the hat-making business", John said, "and I saw the article in the paper. We went to George and Nancy's house and took our hats with us." The Madisons were accepted into the first show.
Cindy and John are now the co-directors of the People's Choice Festival, both with the fest from the very beginning. They took over a few years ago when George and Nancy retired and moved south. With all the work they do to present each festival, neither one exhibits at the show anymore. Their artistic labor of love has become the show itself.
"I think there were about 60 artists that first year," John said. "They were all along the military museum entrance road, with about four food vendors over by the monuments. We had one little stage. It was a hay wagon. Someone made us a yellow, red, and blue canvas backdrop and a little roof. That was it, a hay wagon." The festival now has two huge entertainment tents that seat hundreds.
John and Chris Kepler, entertainment director, remember one particular year quite vividly. "One that stands out was I believe in 1995 when the storm blew the entertainment tent down at night and the fireman took the gear to the fire hall for safekeeping. We got things up and running in time to open the next morning," Chris said.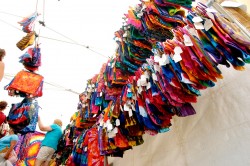 Diana Stapleford, broadcast executive, now of Magnum Broadcasting, has been with the festival for 19 years as marketing and sponsorship director. She's responsible for publicity and raising funds for the festival. People's Choice runs on donations and sponsorships. "The more donations and sponsors we get, the more we can improve the show year after year. We appreciate this support more than you know," Diana said.
The People's Choice grounds are so spacious, no matter how large the crowd, visitors feel free and unfettered. Some festival goers bring babies in strollers and their pets (on leashes, of course). One of the things that makes People's Choice a little different from most arts festivals – all the artists, entertainers, and food vendors are from Pennsylvania. The selection of arts and food are also chosen to suit the budgets of growing families.
"At first, this was a 'silly little arts festival' that nobody thought would come to much of anything," John said. "Thanks to George and Nancy, it's become 'the local show' in my opinion. Many local folks come every year, every day. The people have really supported the People's Choice Festival, and we appreciate it."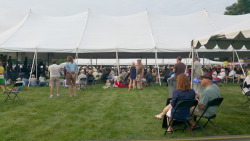 Thanks to the Marions for their energy, enthusiasm, and perseverance. Sadly, Nancy passed away and George now lives in Florida. They'd be proud of their legacy, and, 24 shows later, how the 'second generation' of volunteers is taking it to the next level, while preserving the original goals – exclusively Pennsylvania vendors and entertainers, affordable crafts, and a wholesome family experience.